If there's no menu on the left click on the dog to take you back to frames.
ss Uganda
Uganda was launched in 1952 by Lady Hall, wife of the retired governor of Uganda, Sir John Hathorn Hall, she was originally to be named the 'Karatina', and was sister ship to SS Kenya. Her registered owners were the British India Steam Navigation Company. With a gross weight of 14,430 tonnes, she was 540 feet long and 71 feet wide. Her draught was 25 foot. The twin screws gave her a speed of 16 knots, although in her original trials, she delivered 19.52 knots.
As a passenger liner, she could accommodate 167 first class and 133 tourist class passengers. Her crew numbered almost as many, at 287. When re-fitted and converted into an educational cruise ship in 1968, at a cost of 2.8 million pounds, and a new gross weight of 16,907 tonnes, she accommodated 306 cabin passengers, and 920 dormitory berths, considerably more than her original capacity.
In her early years she encountered several 'scrapes'. On only her second voyage she touched ground at Dar-es-Salaam in Tanzania, and in 1969 she was shelled by the Spanish off Cape Trafalgar, even though it was outside the 3 mile limit at that time. The shells landed within half a mile of the boat. She also grounded briefly off Dundee in 1976.
In April 1982, she was requisitioned for service with the Falklands Task Force and had to discharge it's passengers of schoolchildren and teachers at Naples, no doubt a terrible disappointment for all the children concerned. From there, it proceeded to Gibraltar for a refit as a hospital ship. It sailed for the Atlantic with 136 medical staff, and became known as 'Mother Hen'. The first casualties it came to the aid of were from the stricken SS Sheffield. During the campaign, it treated 730 casualties, 150 of whom were Argentine prisoners.
Courtesy of Graham Bond
Above taken in Port Stanley, Falkland Islands
In August it became a troop ship to return the British soldiers to a triumphant welcome at Southampton on September the 9th, 1982. It was chartered by the military for a further two years as a store ship running between the Ascension Islands and the Falklands. At the end of it's charter, it returned to Falmouth and was eventually sold to the Triton Shipping Co, then it sailed to Kaohsiung, Taiwan, to await demolition or possible re-sale. On the 22nd of August 1986, it was driven aground by typhoon 'Wayne', and lay on it's side, reportedly until March 1992, when it was eventually broken up.
Courtesy of Alan Mackenzie
Uganda postcard circa. late 1970s.
Alan Mackenzie remembers this amusing little anecdote;
July, 1980. We'd arrived in Leningrad early in the morning in order to get the long day-tours away in good time. The locals however, had other ideas and, for some reason best known to themselves, they were being at their most obstructive and it wasn't until about 1030 or 1100 that the tours finally left. This threw out the whole schedule for the day and we were extremely late sailing so when the Bridge called for sailing music, I took great pleasure in broadcasting "Rule Britannia" & "Land of Hope and Glory" at a level probably calculated to draw blood from the ears of anyone near an open deck speaker! I wonder to this day however, whether in reality, the gesture was wasted on the Russians, as it's doubtful any of them would have known what the tunes were. It did however, give us a certain satisfaction.
Courtesy of Alan Mackenzie
Uganda buffet lunch menu from 23rd November 1980.
Courtesy of Alan Mackenzie
Courtesy of Geoff Kimber
This is a great A1 size poster of Uganda that Geoff found in his attic and has done a great job photographing in the sections shown below.
Courtesy of Geoff Kimber
The above is made up of 3 sections i.e. Bow, Stern and Index. Click on each section to see the full detail.
Courtesy of Geoff Kimber
Courtesy of Geoff Kimber
Courtesy of Geoff Kimber
Great stuff Geoff, thanks.
Courtesy of Geoff Kimber
Geoff recalls;
Uganda 1983: Looking in a sorry state, this view is in the outer anchorage of Port Stanley in mid 1983. I have this photo enlarged and it takes pride of place in my study.
Courtesy of Geoff Kimber
Two photos of Wessex Helicopters delivering stores and changing personnel at Ascension. We could not go alongside or have boats alongside due to the swell, so everything was via helicopter. It got quite busy – one photo shows one Wessex leaving as another arrives.
Courtesy of Geoff Kimber
The warm weather at Ascension and no air conditioning meant that we all had our windows open all the time; consequently there was little sleep to be had during helicopter operations due to the noise.
Courtesy of Geoff Kimber
The Chinook photo was somewhere between East and West Falkland – We used to occasionally circumnavigate East Falkland to deliver and receive the garrison troops dotted around the islands. Uganda was one of a very small number of vessels to be able to land a Chinook. You knew when one landed because the whole ship vibrated with a weird sort of gyroscopic motion.
Courtesy of Tony Simpson
Doing her bit!
Courtesy of Tony Simpson
Here is a photo taken from the bridge of the Uganda during the Falklands war, clearly flying the union jack in full view of the Falklands Islands - still under Argentine occupation when this picture was taken!!!
Most definitely her finest hour.
Jim Walton found this great photo linked to San Carlos Water in Google Earth.
Courtesy of Morris Bagnall
SS Uganda in the Falklands on her return trip in Jan 1983.
Courtesy of Tony Simpson
Uganda berthed in Copenhagen taken in 1981.
Courtesy of Tony Simpson
Uganda moored at Antalya, Turkey, 1981. I love this photo as you can really see what the ANZAC Diggers had to face when they were being landed at the beaches at Galipoli.
Courtesy of Geoff Kimber
Above is page 5 from the Daily Mail on Thursday August 5th 1982 showing the amazing timeline of how Uganda was transformed back to cruising in just 7 weeks.
Geoff recalls;
After the Falklands war, Uganda returned to Southampton for a couple of days and then went up to Smith's yard in North Shields for her refit. I joined in Southampton along with the skeleton staff who relieved all those who had been south. The short trip to North Shields was a bit hairy – not many of us on board knew the ship. Down below we had only one engineer (out of two) per watch with previous experience, and the crew were also inexperienced and recruited off 'the pool' to 'help' us for a few days. Watches were a real run-around: Uganda's steam plant had not been shut down for maintenance for about 5 months (normal practice was to shut down for a field day every turn-round port), so when we flashed the boilers and warmed through to leave Southampton there were near monsoon conditions from multiple leaks that appeared as all the flange joints had relaxed and gone soggy in So'ton. Ex Uganda engineers will also recall the very leaky boiler header doors that had a nasty way of losing lots of feed water. The engineer with 'the knowledge' had to race around keeping the job together without any time to train up the new guy. Revolutions were set to "variable"! I was on watch with Chris Adams, then a motor 3rd, who I recall was on his first trip on a steam ship. He rarely left the relative safety of the Genny flat (diesels you see) and was happy to tend the diesel purifier whilst I did the rest (sorry Chris!).
While we were in refit the P&O marketing effort began, with adverts in the press. The attached press cutting was posted up in the engine room by the Geordie fitters to some amusement. I am sure anyone who has ever done a refit will see the irony in the work schedule proposed by our gallant marketeers.
Note one of the items in the project plan under Week 2: "Re-tune piano":- During refit one of my jobs was to supervise two Geordie fitters (as though they really needed supervising) as we three opened up the stbd hp turbine for survey. Towards the end of a hard day that had consisted of wielding 28 lb hammers to release the casing bolts, one of the fitters was reading the 'project plan' on the notice-board to his mate – (use best Tyneside accent here) - "Heya Billy! Fuck me! It's fucking week three and we havn'e re-tooned th' piana yet! Doon't tell the Chief fer fuck's sake!"
Yes many stories to be retold from our little visit to North Shields….
Courtesy of Geoff Kimber
Uganda plates:
Around 1981. Ooh all that luverly brass! Note the blackboard indicates the boiler fuel nozzles in use and are the newer steam assisted type fitted around late 1980 or maybe 1981 I think.
Courtesy of Geoff Kimber
Uganda Boilers:
Looking from Stbd to Port. The cadet (sorry don't recall his name but was very Irish!) is being instructed in blowing tubes by myself. You can also see the curved end of the "Eddie" Cochrane auxiliary boiler in the distance. Note to the right is a plastic sheet strategically placed to stop leaky flanges dripping on the Ag Wallah's head while he has his tea.
Courtesy of Geoff Kimber
Uganda Gennys:
View from Port to Stbd with two of the "old" Allen two-strokes engines cylinder heads in view. Note the ominous brown stain on the paintwork at top centre. I like to think this may have been caused by a "gusher" from the famous DOG tank which occasionally overflowed when transferring diesel fuel. If the sounding pipe cock on the overflow tank was left open it would gush vertically up the pipe, ricochet off the deck head and splash over the exhausts of the nearest engine. David Oakes may be particularly familiar with this spectacle.
A sad end to a ship that must still hold fond memories for so many, and served so gallantly during it's Country's time of need. God bless her and all who sailed on her.
Courtesy of Martin Mullen
The above shot was taken in Malta in 1972.
Martin Mullen remembers the following;
I think I am correct when I say I was the first P&O engineer to be sent to her following the complete affiliation of the BI fleet in 1972. John Gough was 2nd Eng, Ken Patterson was Chief, Tony Kennedy was day-work 3rd and others whose names I have forgotten exacted some kind of revenge on me but it was good humoured and I soon felt very comfortable with such a professional crowd. Certainly when I joined everyone else was BI. I was joined some weeks later by one LJ Rockell from NZS then later by another from NZS who went by the nickname 'chunky'. If it hadn't been for the fact that I was due to join the new build Spirit of London in Italy I could have quite happily spent the rest of my seafaring career on the Uganda. Sadly all the photos I was taking at that time were as coloured slides and none but the attached has survived.
Courtesy of Richard Reubin
Below are a series of photos of Uganda in dry dock in Piraeus, Greece for repairs after an unfortunate incident outside Alexandria, circa 1979. Mike Fatchen was Chief Officer and I'm told he'll know all the details - He was a hero!
Courtesy of Richard Reubin
Courtesy of Richard Reubin
Courtesy of Richard Reubin
Courtesy of Richard Reubin
Courtesy of Richard Reubin
Courtesy of Richard Reubin
Courtesy of Richard Reubin
Don Cole has named the person on the far left as Dave Kirchin 2EO "The old Chap" and I have to agree that's Kirch's unmistakable stance and Don believes he would've been saying "Well, well I never" and Don thinks that's Roger Villiers 3EO with his back to camera with bag on his shoulder.
Harbo believes the chap in the hard hat, to be Ken Hobbs, Chief Engineer.
Courtesy of Richard Reubin
Courtesy of Richard Reubin
Courtesy of Richard Reubin
Courtesy of Richard Reubin
Courtesy of Richard Reubin
Courtesy of Richard Reubin
Great stuff! Thanks Richard.
Don Cole has kindly recalled his memory of the events that lead to this near disaster;
Uganda had an overnight stop in Alexandria and as luck would have it there were two RN Frigates berthed behind us, the ship's company invited a number of us to attend "pour out's" onboard the two ships, which turned out to be a great session as the ships had some seriously strong ale onboard as well as all the normal stuff. The results were still evident the next morning as I was trying to slowly extract my head off the pillow and as my feet hit the deck the whole cabin shook, which was nothing new after a good night on decks, but this was quite extreme as the ship seamed to be sliding sideways which was a new one on me.
The ship had departed Alexandria at approximately 07.00 and due to a bad decision by someone on the bridge (I will not name names for fear of litigation) we made an error in navigating through the narrow passageway outside the port entrance and hit some rocks. The crash parties were called and the order to close all water tight doors given.
The vessel had sustained damage to the hull plates in the forward No 1 cargo hold. I was part of the response team and soon found that there was water flooding the hold at quite a rate. As we kept our entire stock of fluorescent tubes in that hold we formed a human chain to try and save as many as possible.
The hold was flooding very fast and was not a watertight hold which soon would allow the water to spill out into the children's dormitories. A plan was devised to weld a plate over the hatch to seal the hold, the matrons helped all the children to quickly pack their belongings and move them higher up in the ship.
The pate was cut and rushed up to the hold access and our Chinese Fitter finished welding the job just in time as the water was within feet of the top of the hold, some thirty feet or so I think. Then we stood back in disbelief as the water spurted out of a small hole in the deck where the sprinkler system pipe went through into the hold which had been overlooked in the panic, it was not much of a hole but water did slowly flood the dormitories.
By now we were noticeably low in the water at the forward end and someone made, to my mind, a very risky decision not to return to port but to make a dash for Piraeus as they had a dry-dock that we could use to repair the damage. Anyway we did make it and the rest is history, but one that could have had a very different ending given the numbers of passengers onboard and the majority being school children.
All for the sake of a good night out.
Courtesy of Geoff Kimber
Malta dry dock 1980 or 81.
Courtesy of Geoff Kimber
Ditto.
Courtesy of Mike Williams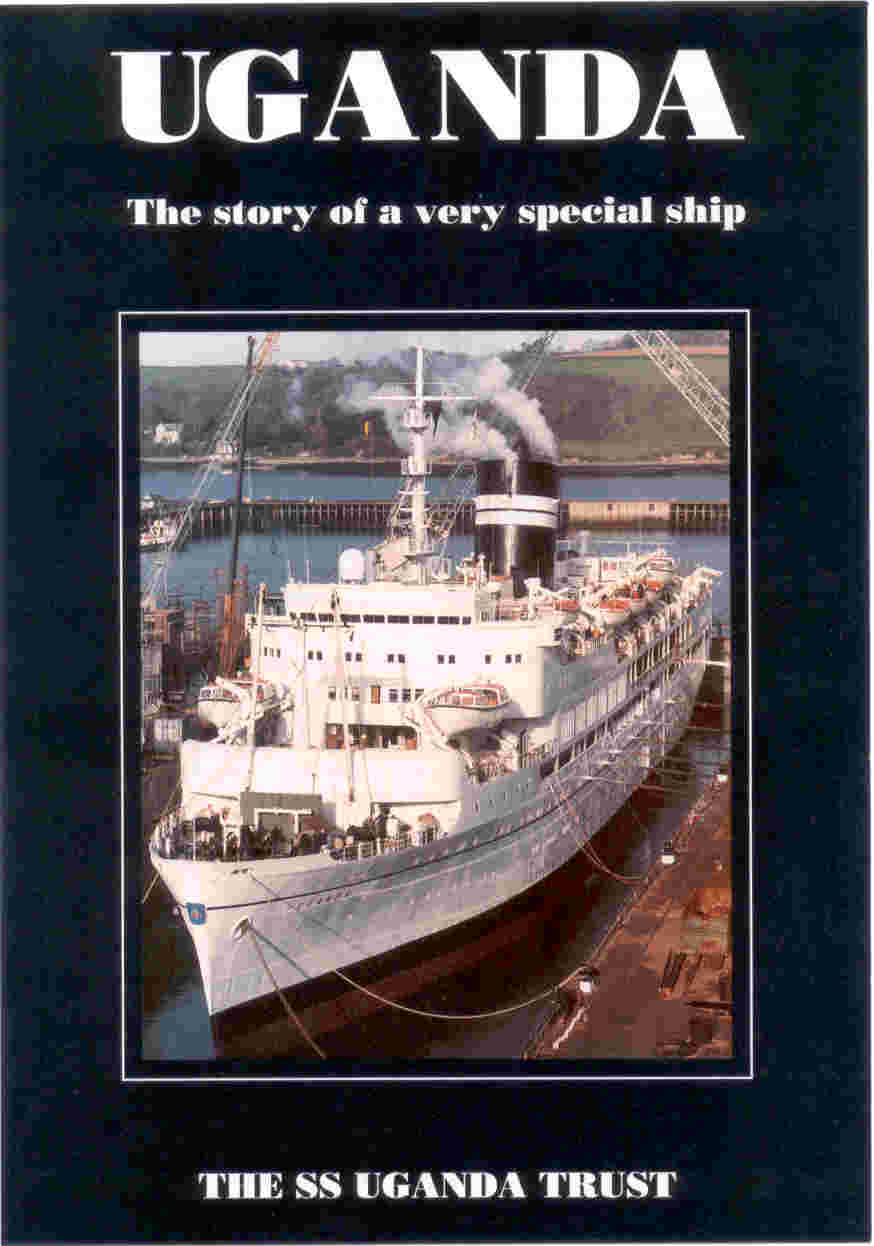 click to enlarge
Geoff writes;
Looking at the photo it can be seen that the whistle is emitting some steam … read on …
The photo was apparently taken early on the morning of 6th or 7th December 1983 in Falmouth dry-dock. We had been in dock for 2 weeks at the end of the ship's first year doing the Ascension – Falklands troopship run. After being with Uganda for 4 and a half years this happened to be my last ever day on board.
During the refit all ship's staff had been lodged ashore at a nearby hotel; as I was to be paying off on the last day of the refit I was volunteered to go down to the ship early (about 3.00 a.m.) to "open up the job", flash the boilers and start warming through the systems. Some parts of the plant were at various stages of readiness, so I flashed 2 boilers and started to warm through the port turbine set (parts were still missing from the third boiler and the stbd turbines not yet ready). As the steam pressure gradually rose you get to a point where a turbo-feed pump needs to be started and steam put onto air ejectors and so on; this was a "point of no return" as the boiler water levels were dropping and the feed pump needed to get water into them. Failure to get a feed pump away at the right time meant you had to shut down and start all over again. I was fast approaching this critical point at about 6 a.m. when I received a call from the duty mate saying the whistle was blowing… this had started a while earlier with a spluttering flatulent type of noise, and then had grown louder and rising in the octaves and the decibels as the steam pressure rose.

As those of you with a modicum of steam plant knowledge will be aware, there is no isolating valve between the boiler steam drum and the whistle itself (a legal requirement so a ready supply of steam is always available for the whistle). I asked the mate to try pulling his whistle lever a few times in an attempt to nudge the local closing valve/reed into action, also adding that as the pressure rose it should assist it in closing. However the theory was not working. By about 6.30 I had managed to get the feed pump away and water levels in boilers regained (much running around). The bloody whistle was still blowing and now had about 250 psi behind it. I could hear it in the boiler room! Drastic action was needed. I grabbed the largest hammer I could find and headed north. As I headed up the boiler room ladders it was getting louder. When I got onto deck it was bloody deafening. I inserted ear plugs and ear defenders on top and started the climb up the ladder external to the fiddly, with the intention of whacking something to shock it into the closed position. I got about three or four rungs up the ladder and hallelujah it shut up - to a rousing cheer from the bridge. I still wonder about the efficacy of whacking the whistle with a 28 pounder at the top of a very precarious ladder - a fall from that height really would have been my last day.
I heard from the dock workers that the noise had been very audible in the town, as the cliffs around the dock had the effect of reverberating/ricocheting the noise and making it worse. Everyone in Falmouth had an early call that day. I left at midday in order to avoid interviews from the local media. Thanks to the SS Uganda Trust for capturing it on film.
Courtesy of Richard Reubin
When I first saw this photo I assumed it was another Falklands shot but was saddened when I read the truth ... it's Uganda as ss Triton leaving Falmouth on her FINAL voyage. The original photo was taken by Roy Cressey and was found on a postcard published by Tom Chantry. A fitting second last picture to this section.
Courtesy of David Thomas
Dai writes;
This picture was taken when the Uganda was at anchor waiting to be scrapped when during a bad storm the ship dragged its anchor and went aground before it finally gave up her will to continue. It is a very sad picture of a wonderful ship that meant so much to many. It certainly was the best ship that I have ever sailed on and have wonderful memories of all the friends that were on board.
© Amberfluid Web Design